500 Posts Club
Founding Member
10 Second Best E/T
Member ID

#1084
Messages

766
Reactions

1,771
Points

132
City

Vaudreuil
State

Non-US
Country

Canada
Vehicle

2016 Challenger Hellcat
On the way to the track I weighed the car at the dot scales. They were closed but they leave it on so trucks can check their weights.
The car weighed just 4570 lbs.🙀
1st pass 10.427 so better than last weeks PB by .001. LOL
Then a couple 10.43's. Let the car cool longer and 10.426 so better by the same .001. Lunch break then 1st pass 10.421. This was followed by 3 more runs in the 10.43's. The 2nd to last pass the car had cooled longer and was on a run like the others. Until just after the 1/8 when it suddenly lost traction and attempted to change direction like a mistang. That was an exhilarating 11.04 second run. LOL
The Corvette that had run before me had a failure of sorts that put coolant on the track. Apparently I found it. And another reason I don't turn everything off with the SRT button.
It was great meeting up with @French cat again as well as meeting
@motorhead
.
Here are the runs from today
From 1st to last.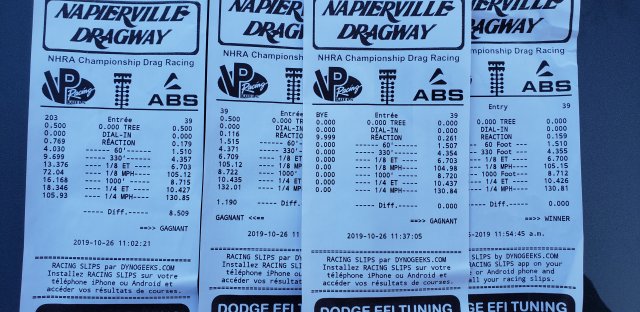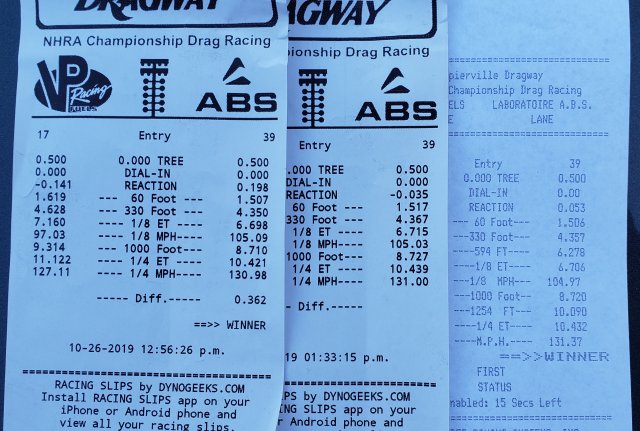 Last edited:
15