Active Member
Founding Member
Member ID

#1007
Messages

187
Reactions

471
Points

67
City

PASADENA
State

TX
Country

United States
Vehicle

2019 HELLCAT RED EYE
I took a journey to get to this point. During the summer I had a 2.85 upper, 180 degree thermostat, catless mids installed. I also had suspension links installed so my 17" rims would fit. To be honest, I was pretty bummed out with a rating of 714 rwhp on the Mustang dyno. This was from a baseline dyno of 616 rwhp. I think they called the dyno a 'heart breaker'. I received the tune and the work was done by Peitz Performance near Katy, Texas.
I took the car and made some passes as is at Lone Star MOPAR Fest in early October when the DA was around +2,000. It was a hot and miserable day at Houston Raceway Park. My best time that day was 10.424 @ 133.94 and considering I had a 2.85 pulley I expected a lot better time.
I had been thinking about getting a set of Demon springs, but don't have the tools or knowledge to install them. Luckily I have a buddy who is a mechanic so I bought the Demon springs and had them installed.
I was invited to a track rental at Houston Raceway Park on November 3 and looking at the weather reports, it appeared we would have real good weather. When I arrived I was first in line and the guys there were doing an outstanding job of prepping the track. I have full seats and full weight and the only prep I do was putting the Mickey R's (305/45/17) at 18 psi.
Since on only prior runs had a PB of 10.424 my goal was to get into the real low 10's, maybe in the 10.teens or even 10.zeros. I figured that only in a dream would I get into the high 9's.
So the track was ready and I lined 'em up. My Mickey's made a nice smoke show. As the green light went on, I revved up the car then launched hard. No spin, no nothing, but haul ass down the 1320 feet.
I knew I had made a great pass, but I didn't know what the time slip said as the time slips were at the starting line. Since I was the only one running, I made another immediate pass and this one felt the same as the first one. Pure hard launch, no spinning, no wheel hop. I did notice I was going into 5 th gear real near the end of the quarter mile, maybe about 50 feet from the end the car shifted.
I parked my car and walked over to the clip board and got both time slips, and there it was, the glorious 9.991 @ 136.95. I was literally blown away with the 60 foot times of 1.453 and 1.454 on the runs. There is no doubt in my mind that the Demon springs allowed my car a lot better launch than before I had them installed.
The question is this..........Do I have a 9 second car? Yes I do, however it took negative DA to get the time slip. As the day warmed up and the weather got hotter, I made a 10.07 and a 10.16 pass, which shows how much of a difference DA makes. Was my 9 second pass a 'hero' pass.........NO, because I was immediately backed up with a 10.02 and a 10.07 pass. Had I made the 9.991 pass followed up with 10.2 or 10.3 passes, then I would say I made a 'hero' pass.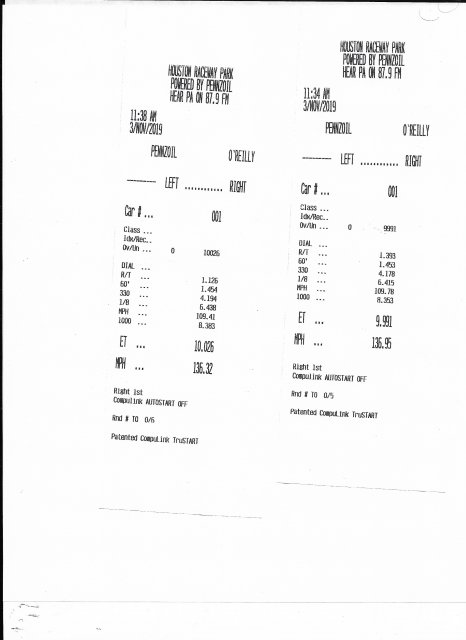 15