Member ID

#1001
Messages

82
Reactions

181
City

Manassas
State

VA
Country

United States
What I Drive

2019 Challenger 1320
I wrote briefly of my initial impressions on the A8 vs the M6 when I first got my 1320, but had not been to the track at the time of writing that.
I have now been to the track...and all I can say is "...I'm all yours Emperor Palpatine! I'm loving this Dark Side!"
Whatever "joy" is lost rowing gears on the street is more than compensated for by the amazing performance of the A8 on the strip. So much so that I can now forgive myself for forsaking my Barton-enhanced M6.
My maiden run with my 1320, with a 1543 DA was 11.983. I was asleep at the light, fussing with the transbrake, then hanging on for dear life as my car shot down the strip faster than I ever drove my M6. More importantly, on subsequent runs (nine in all over two days at MSHS @ VMP) I was able to concentrate on where I was in relation to my competitor, and landmarks - very important when you're trying to keep a sub-12 second car at or slightly above 12.50 for Index Racing.
Since one of my primary objectives in getting the 1320 was to get much more involved in racing, I am now quite comfortable in my decision...I only wish I had succumbed to the dark whisperings of the A8 sooner!
Right Lane, car #646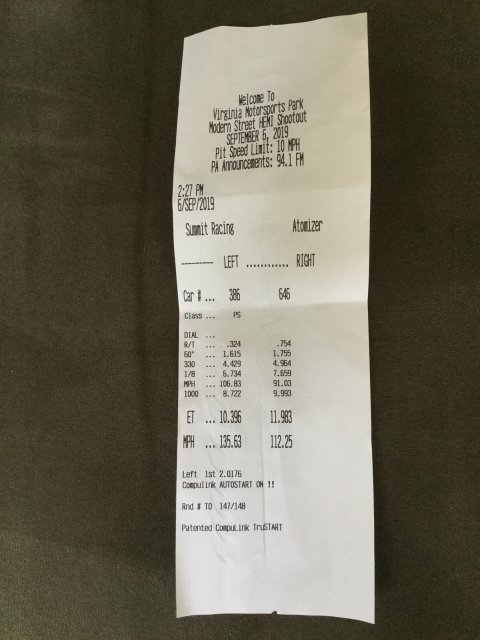 8