Active Member
Founding Member
Member ID

#1084
Messages

280
Reactions

557
City

Vaudreuil
State

Non-US
Country

Canada
What I Drive

2016 Challenger Hellcat
Yesterday the track was closed due to power outages caused by storms the previous day. Unfortunately oilburner came out here for nothing.
This morning they were open so I decided to go. It rained just before I arrived. I had to abort or let off on my first 3 passes. The 3rd pass I pedled and had a lousy 1.669 60'. The result was 10.69@131, so if I could get a clean pass in it wouldn't be half bad i figured. The sun came out and cars were running better. So I made a pass. From what I saw on the timers it looked good so I went again. It went quicker in the 1/8. The slow pass was a 10.436@132.76 . The second was 10.377@132.91. WOW
A little while later I did the same thing with similar results. Second pass was
10.377@132.76.
So try that again right.
Similar results again 1st pass was 10.401@132.1 and the hot lap was 10.373@132.90.
I gave it one more try. A 10.400@132.50 followed by
10. 416@132.35.
So pack up and go home the last few runs I felt the tires slip on launch.
Likely why I couldn't better my previous 1.50 60'
This might be it for this year. I have surpassed every goal I had by a bunch. It's been a great year with this silly car. Got to meet another bunch of great people. Some from here and others that are track regulars.
Hopefully I get to try again at DA like yesterday but if not I'm happy anyways.
I ran quicker than last weeks PB on 6 of my 11 passes today. LOL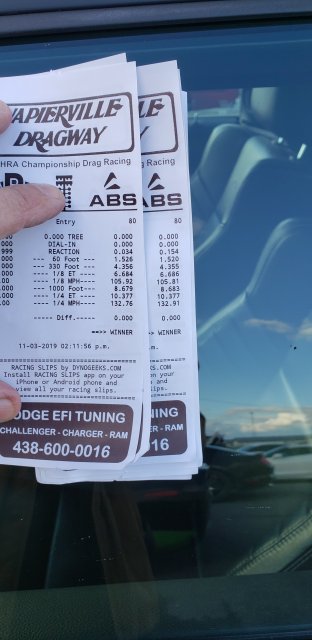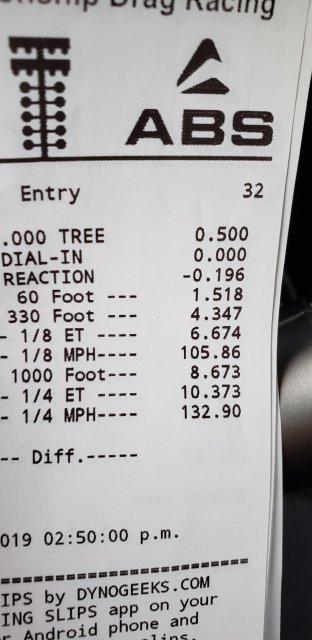 10

9